World Cancer Day is on February 4th, 2020!
---
How Did World Cancer Day Start?
Just 20 years ago, on February 4th, 2000, at the World Cancer Summit: Against Cancer for the New Millennium in Paris, World Cancer Day was established. It is an international day recognized by members of the UN. Headed by the Union for International Cancer Control (UICC), World Cancer Day, "aims to save millions of preventable deaths each year by raising awareness and education about cancer, and pressing governments and individuals across the world to take action against the disease," according to the site's mission statement.
Their approach encourages its member organizations to raise local cancer awareness campaigns, and spread the word through digital media about World Cancer Day. A primary goal is to reduce the stigma and dispel myths related to cancer, as well as end preventable suffering for cancer patients globally.
Prevention is a big factor to eliminating cancer suffering, so UICC is spreading the word about early detection and warning signs for various types of cancer. Check out and share the infographic below to get educated!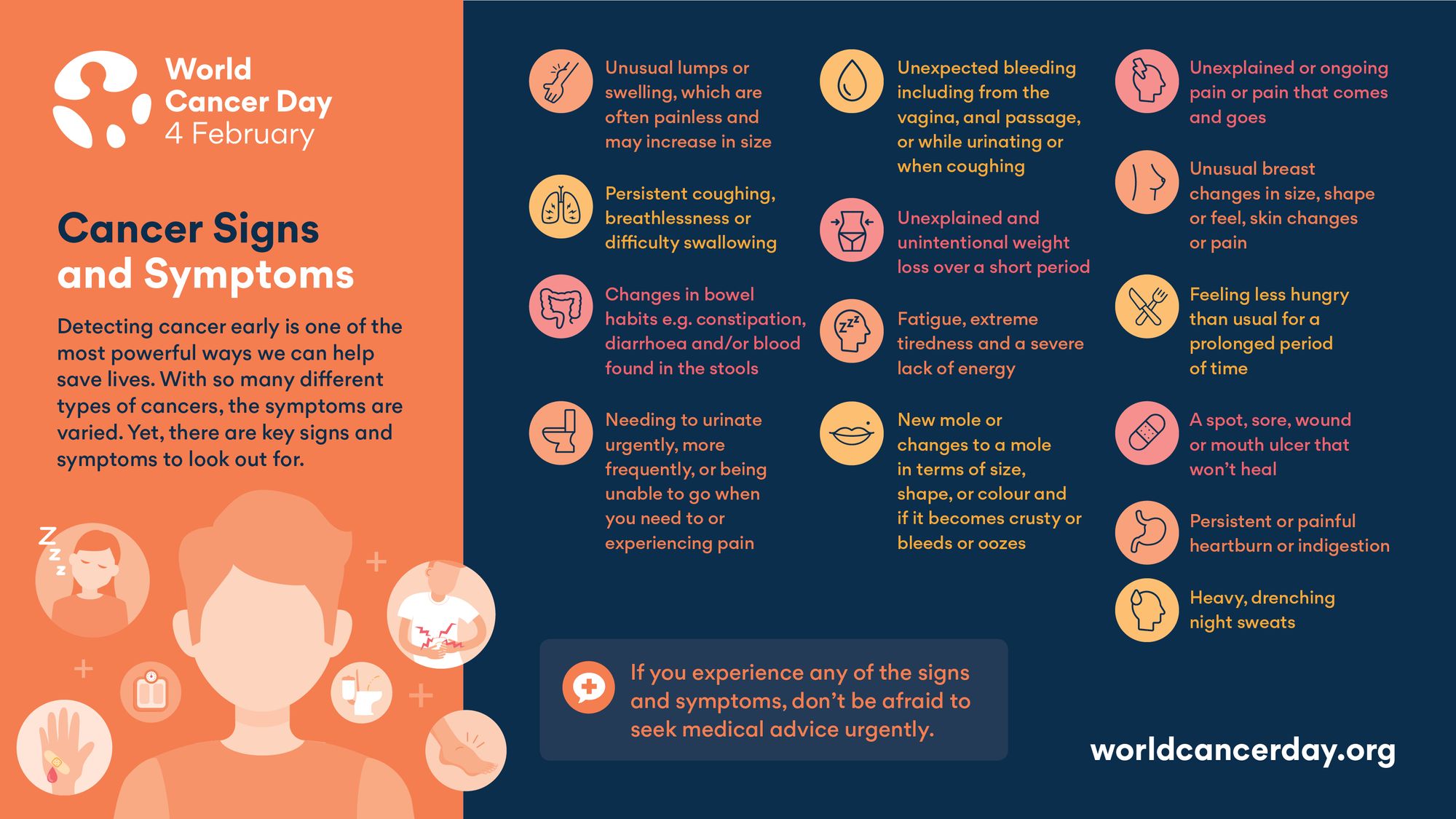 World Cancer Day 2020 Theme
The theme for World Cancer Day in 2020 is: "I Am and I Will.", which puts a focus on individual identity and action. This campaign started in 2019 and will run until 2021. The last campaign theme, "We can. I can.", also ran for three years, from 2016 to 2018.
UICC elaborates on the choice for their newest theme on their website: "This World Cancer Day, we recognize that our commitment to act will lead to powerful progress in reducing the global impact of cancer. So, this 4th of February, whoever you are, your actions—big and small—will make lasting, positive change. Because progress is possible. We need your commitment to create a cancer-free world. This World Cancer Day, who are you and what will you do?"
theMednet Mission
We applaud all efforts to raise awareness about cancer, including World Cancer Day! theMednet is at the forefront of innovation in oncology, helping physicians keep up with new research, novel trials, and the latest literature, as well as inform them on the best treatment options available for scenarios and patient cases not fully covered in guidelines and textbooks. Our mission is to build the world's largest and most up to date knowledge base for cancer, so that physicians everywhere will have the expertise and confidence to deliver the best possible care to their patients.

To find out more about World Cancer Day, visit the official website!
To learn more about theMednet, visit our about page!