Editor Spotlight: Dr. Christina Washington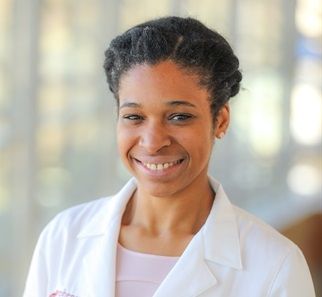 Dr. Christina Washington is a gynecologic oncology fellow at the University of Oklahoma Health Sciences Center. Her research interests include clinical trials, preventative strategies to decrease the incidence of cancer, and health disparities. Dr. Washington is the Gynecologic Oncology Deputy Editor at theMednet!
---
Dr. Christina Washington's original career plans were centered on forensic science. In fact, it wasn't until her undergraduate studies that she decided on medical school as an option to consider. She recalls, "I decided [on medical school] a lot later than my friends and colleagues. I realized in undergrad that I wanted to be an advocate for patients, to help them have a better life." That commitment to quality patient care was heavily influenced by the range of hospitals and networks Dr. Washington has experienced across the country. She remembers seeing a county in southeast Georgia that had only one physician. "Seeing those disparities...brought me more towards medicine."
One year, Dr. Washington's stepfather was diagnosed with colon cancer. She took the summer off to help care for him and accompany him to hospital visits. The welcoming care he received helped Dr. Washington finally decide her focus: oncology. It wasn't until a rotation in obstetrics that she was able to narrow that focus even further. "I knew that I wanted to learn more about women's health and to take care of the female patient population specifically. The comprehensive care of gynecologic oncology was the best choice because it follows women's health even after pregnancy. We stay with our patients from diagnosis, to surgery, to chemotherapy."
For oncologists, staying with patients means guiding them even in uncertain times. Dr. Washington recalls a particularly memorable moment with a patient who had rapidly progressing cervical cancer: "we had a long discussion about her outcomes, how to talk to her children about what she was going through, and making her as comfortable as possible. It's particularly important to be there for your patient on the other side of outcomes when you run out of options."
Other challenges in the field include how quickly oncology is growing and changing. Dr. Washington remarks, "sometimes it's hard to keep up with all the new data. It helps to chat with my co-fellows about new research, and currently we're seeing a lot of promising results involving PARP inhibitors for front-line therapies." She says technology plays a big role in staying connected with co-fellows via text chains and groups.
Technology is also transforming medicine in other surprising ways. "I joined theMednet because of how interesting and valuable it is to see how others are responding to new data across the country. It's a great platform to ask and answer questions, and I think disseminating information through the community is a vital step in improving care." Dr. Washington notes that, although yearly meetings are beneficial to the community, they don't occur often enough. Additionally, the information gleaned there may not be immediately accessible to the wider space of physicians.
Outside of work, Dr. Washington keeps to anything athletic so she can stay energized: "I realized after completing residency that I really missed playing sports and working out. Now, anything from just twenty minutes of running to a CrossFit routine, I try to take the time to stay active. In college I was actually in marching band, playing trombone!" Dr. Washington is also a huge fan of cooking! Her latest dishes include no-knead bread and homemade meat sauce.
If she could go back and offer herself advice when she first started out as an oncologist, Dr. Washington says, "I would tell myself that you have to continue to be a person and do things that are important to you; I put a lot of personal things on the back burner for the sake of residency. You can't take care of patients if you don't take care of yourself." And with all said and done, Dr. Washington reminds us of what it takes to be a quality doctor: "it all boils down to caring about the patient and doing what's best for that patient. At the end of the day, I went into medicine to take care of people. My decisions are shaped around wanting to do what's best for them."