Editor Spotlight: Dr. Kiri Cook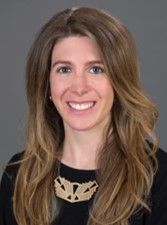 Dr. Kiri Cook is an Assistant Professor in the Department of Radiation Medicine at Oregon Health and Science University in Portland, OR. She is also the breast malignancies Associate Editor for Radiation Oncology at theMednet!
---
Excellence in oncology runs in the family! Dr. Kiri Cook's father is also a practicing radiation oncologist, so she was plenty aware of medicine, and oncology specifically, from a young age. The path to treating cancer wasn't so clear cut, however.
Dr. Cook initially pursued chemistry in undergraduate studies at the University of Michigan. She worked in a chem lab before realizing that a vital component was missing from her studies: a connection with others. So, in a complete 180° turn, she changed her major to Philosophy and graduated.
That quest for human interaction and social cohesion lead Dr. Cook to medical school: in fact, "one of the most enjoyable parts of medicine for me is the relationships we build with patients and colleagues." Completing medical school offered a host of challenges. Particularly, the transition from being a student to a physician came with a lot of responsibility, training, and stress.
That's why Dr. Cook makes it a priority to spend time outside, read, and spend time with family. She says it can be easy to fall into bad habits that cause a shift in work-life balance, so she always tries to make sure she's enjoying the other parts of life: "my dad especially has been a role model for me; he's kind and successful at work and has a great balance between work and life."
Stress can be equally hard on Dr. Cook's patients, especially when it comes to insurance technicalities. "There are already a lot of added barriers in receiving care. I'm really thankful for our staff for helping when they can." Ultimately, she wishes medical care could be more accessible with less red tape.
Bad feelings and ideas about medicine get propagated fairly often, Dr. Cook notes, which is why in med school she took all the gossip with a grain of salt: "when it comes down to it, radiation oncology is a great field and a great career choice. I get to deal with awesome people and confront interesting problems. That's all I can ask for."
As for theMednet, Dr. Cook calls it, "social media in its best form, where actual experts answer questions in a way that everyone can benefit."
Dr. Cook's most memorable moments far outweigh the negatives: when she first started doing rotations in radiation oncology, there were a lot of preconceived notions in the medical atmosphere about what working with cancer patients would be like; but when she started treating them, she found the opposite to be the case. "It was very reaffirming...there's a ton of deep and personal human-to-human interaction. It motivates me."