Editor Spotlight: Dr. Omar Ragab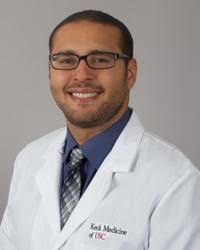 Dr. Omar Ragab is an Assistant Professor of Clinical Radiation Oncology at USC. His research interests include gynecologic cancers and brachytherapy treatment programs. Dr. Ragab is also the Gynecologic Oncology Associate Editor for radiation oncology at theMednet!
---
Dr. Omar Ragab has a long history of physicians in his family, so studying medicine was the natural choice. After completing his undergraduate studies at USC, he decided to stay for medical school, not only for the quality education that USC offers (he was the first person to graduate with a neuroscience degree from USC!), but the support system already in place for Dr. Ragab—he remarks how many of his close friends and roommates from undergrad remained too.
After a long road including fellowship in clinical brachytherapy at the Ronald Reagan UCLA Medical Center, and residency training as chief resident in radiation oncology at LAC+USC Medical Center in Los Angeles, Dr. Ragab is now an Assistant Professor of Clinical Radiation Oncology at USC since 2016. He says above all that he appreciates, "the connections to my patients. Cancer is one of the hardest times for patients in their lives, and I try to keep that thought in mind when treating them. I help them acutely, but also aid in their long term health and positive thinking. We take our time in radiation oncology, which means a lot of time devoted to consults."
Dr. Ragab also excitedly discusses the creation of new programs at USC, and coming up with novel ways to approach the treatment of his patients, especially when it comes to the future of MRIs, brachytherapy, and delivering treatments which better target and spare critical rogans. Most recently, Dr. Ragab published a paper on the Comparison of Patient-Reported Acute Urinary and Sexual Toxicity in Prostate Brachytherapy Monotherapy. He also expresses a great interest in the improvement of HPV vaccination rates in his geographic area.
While the future of medicine continues forward, Dr. Ragab notes not everyone benefits: "access to care for patients is a big problem for the US, and worldwide. There is a lack of radiation facilities and quality treatment across America. Organizations like ASTRO and the American Brachytherapy Society are pushing for change, but there is more work to be done." Dr. Ragab keeps a positive attitude because he can rely on his bright and dedicated colleagues to get the job done: "they all care deeply about their work, and we all really come together for the greater good."
That attitude also speaks to Dr. Ragab's advice for anyone interested in pursuing a career in oncology: "you have to have the drive to do what's best. Be willing to spend extra time with patients, make them feel heard during a difficult time in their lives. Remember to put them first." It's one of many reasons Dr. Ragab joined theMednet as our Gynecologic Oncology Associate Editor! "theMednet is a great opportunity to not only contribute to the field, but also to learn from it. It allows me to stay up to date and get invaluable expert knowledge."
Dr. Ragab and his wife are expecting their first child! He's always trying to find the best balance between work and life, and often that means, "being able to disconnect and turn off electronics when I'm able, and to take real vacations. I try not to work when I'm on vacation, otherwise I'll burn out." Additionally, Dr. Ragab keeps up with activities that bring him joy: he's an experienced scuba diver, and has even dived with sharks!