Community Member Spotlight: Dr. Mark Rubin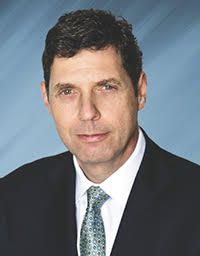 Dr. Mark Rubin is a medical oncologist associated with Florida Cancer Specialists, with specialties in biologic therapy and immunobiology.
---
Dr. Mark Rubin, a graduate of Harvard, Columbia University College of Physicians and Surgeons, UCLA, and Memorial Sloan Kettering, was initially unsure about a career in medicine. In his senior year at Harvard, he was accepted to both Harvard Law, and the College of Physicians and Surgeons Columbia. Then, on a fateful day in November, he heard from his brother that his sister Karen, who was in her final trimester of her first pregnancy, had just been diagnosed with acute leukemia, which in the early 1980's, had few (if any) effective treatments. When he spoke with the Dean of Harvard Law for advice, she told him that lawyers never cured anyone, and Dr. Rubin never looked back.
The calamity and subsequent journey of his sister, as she went through intensive treatment, influenced Dr. Rubin tremendously, especially as he made his way through a career in oncology. "Her experience very much shaped how I would approach oncology and bear continually the responsibility of one who is not only there to treat, but to heal. She had a profound effect on my understanding of what families of patients go through, and she made me more aware and thoughtful of my words and actions towards patients and their loved ones."
Dr. Rubin says he finds meaning in the interactions he has with his patients, and the seriousness and value that comes with oncology is what makes him stay in cancer care. His sister survived an allogeneic transplant only to relapse shortly afterward in the CNS, and in a last ditch effort received craniospinal radiation. Despite all odds, she lived for another 30 years to see her daughter grow up to become a doctor, and was able to see her first grandchild.
Dr. Rubin's time at Sloan Kettering was spent in the Rockefeller Research labs, where nascent work was being conducted on the elements of signal transduction pathways. He had an intuition about cell cycle dynamics and its relationship to antibodies that blocked cell surface EGF receptor signaling, which led eventually to introducing these novel approaches into the clinic. However, lab-based training didn't prepare him for the rigors and demands of taking care of patients. Despite his focus on lab research during his fellowship, he always felt that this background would help him greatly when he leapt into the clinic after being recruited by Dr. William Harwin to join a small practice in Southwest Florida.
"I remember my interview discussing signal transduction pathways and they just looked at me as if I was from Mars. At that time it was cis-platinum and 5-fu." With a wholly different background than the typical practicing oncologist in 1994, Dr. Rubin utilized his skill set and his appreciation of logistics to care for his patients, and has found this the most rewarding part of his career.
Dr. Rubin quickly recognized that the way Oncology clinics were set up in the 1990s was not optimal. He started to think of how all the different pieces of the clinic could work better together if there was a properly designed algorithm embedded in digital technology that would liberate the physician from mundane tasks, and allow him or her to interact more effectively with their patients. Starting from scratch and working with technology that nobody has heard of today called psion, he moved quickly to the cloud, working with a programmer name John Willey who started Altos solutions.
The relationship was extremely productive, and John Willey took Dr. Rubin's thoughts and created what is now considered the premiere and most trusted EMR in Oncology called "OncoEMR". It is completely based on the workflow that Dr. Rubin had envisaged, a logical and comprehensive management of patients that led to productivity improvements never before seen or imagined in oncology. A revolution in practice management started in the Bonita office where Dr. Rubin worked back in 2003, quickly growing to encompass over half of the oncologists in the United States who rely on it in their day-to-day operations.
Dr. Rubin is still very much a champion of better workflow and because he speaks his mind so freely, he is hopeful that the current owners of OncoEMR, Flatiron and Roche, will continue to cherish the baton that Dr. Rubin has passed on to them, and always remember the goal first and foremost established by him: to help the doctor take care of his/her patient. Dr. Rubin's brainchild digital electronic medical record was created for doctors that had the doctors and patients best interests at heart, and addressed a fundamental question: how can doctors' thoughts and actions be more effective?
In fact, that mantra is in line with his advice for med students who want to practice Oncology: "I'd say to them...get your office in order, think about how people are managed, both staff and patients, and think every second, how can this be done better; take time to really see your patients, hear their concerns and frustrations, and invest your best efforts in improving the experience." Today there are all sorts of challenges associated with precision medicine molecular biology that can be overwhelming to doctors in practice, both in understanding as well as execution, and Dr. Rubin feels that technology will lead to great advances in helping patients get to solutions more effectively.
Among Dr. Rubin's noted accomplishments, he is particularly proud of working on Erbitux in John Mendelson's lab, a treatment for metastatic colon cancer still widely used today. In its preliminary stages in 1999, the drug was given to Dr. Rubin's patient as a final effort to help her with her progressing colon cancer. Erbitux went on to become the star of ASCO's conference that same year when Dr. Rubin presented his findings. "It was a poster but eclipsed the plenary session!"
While his days in the spotlight of ASCO are in the past, filled with warm memories, Dr. Rubin still very much believes in research, and as one of the founders of The Clinical Research Division at FCS, the last 30 years has offered his patients ever-improving therapies. He intends to continue to seek out cutting edge treatments.
FCS's collaboration with the Sarah Cannon Research Institute, in which Dr. Rubin played a foundational role, "has been outstanding and has produced and led to the approval of the majority of cancer therapies over the last five years. It is something that Florida Cancer Specialists should be proud of, and we feel that it is our duty to offer state of the art medications and treatments."
Dr. Rubin intends to remain at the forefront of novel cancer research and therapies, and he is still enthusiastic about the future: "immunotherapy is a field I never thought would be so rewarding to witness grow and change. These days I get the most enjoyment out of using the tools we have to make the process and systems in oncology better overall."
It's innovations like theMednet that also piques Dr. Rubin's clinical interests: "theMednet is a wonderful tool to explore the things that are not covered in classic textbooks. It addresses nuances with expert opinion, and that's rare to find." Dr. Rubin is currently working on a point of care application that quickly determines the patient coordinates with respect to their disease and generates at the bedside a concise understanding of the outcomes, both quality-of-life and prognosis.
He feels it should be based on the NCCN nodal architecture which doctors currently employ in their everyday interactions with patients, to give them a sense of what the standard of care and investigational options are in any particular situation. "Each patient has a unique coordinate and should understand the data that applies to the best treatment and what to expect. This is something that we need at our fingertips when we see somebody in need. theMednet, essentially a growing library of knowledge, comes closest to addressing this important aspect of clinical care, and I'm hoping that we can incorporate that into an algorithm that can be used both for and by the patient—to communicate meaningfully and compassionately is the goal." To this end, he is very content with helping his patients through cancer care, one case at a time.